10 Must-Try Russian Podcasts and YouTube Channels (and more!) for Russian Learners
---
When it comes to practicing listening in a foreign language, one of the first questions most of us have is 'What should I be listening to?'
It's pretty easy to find good listening resources for popular languages like Spanish, French or German.
But what if you're learning Russian?
Good Russian listening materials might be harder to find than for some other languages, but they do exist!
In this post, I'll go through some of my favourite listening resources for learning Russian. They represent a selection of different kinds of Russian material. You'll notice there's everything from podcasts to YouTube channels to news websites.
Why such a broad list? I wanted to share lots of different resources because we all have different interests and different ways we like to consume content. Improving your Russian listening skills is really difficult, and if you're going to be successful you need to work with materials you enjoy. That's what will keep you coming back to practise day after day. And it's that consistent practice that will ultimately allow you to achieve the level of comprehension you desire.
You'll notice that many of the Russian resources mentioned in this post come with transcriptions of the audio you'll be listening to. While it's always good to train your ear as much as possible not to depend on written text, the transcriptions are an important part of the listening process because they allow you to check your understanding of what you're hearing.
The key is to work with audio and text without becoming overly dependent on the written word. As you become more confident, you'll be able to spend more time practicing conversations or using materials that don't have transcriptions.
So, without further ado, let's look at some of best resources you can use to improve your Russian listening skills …
1. RussianPod101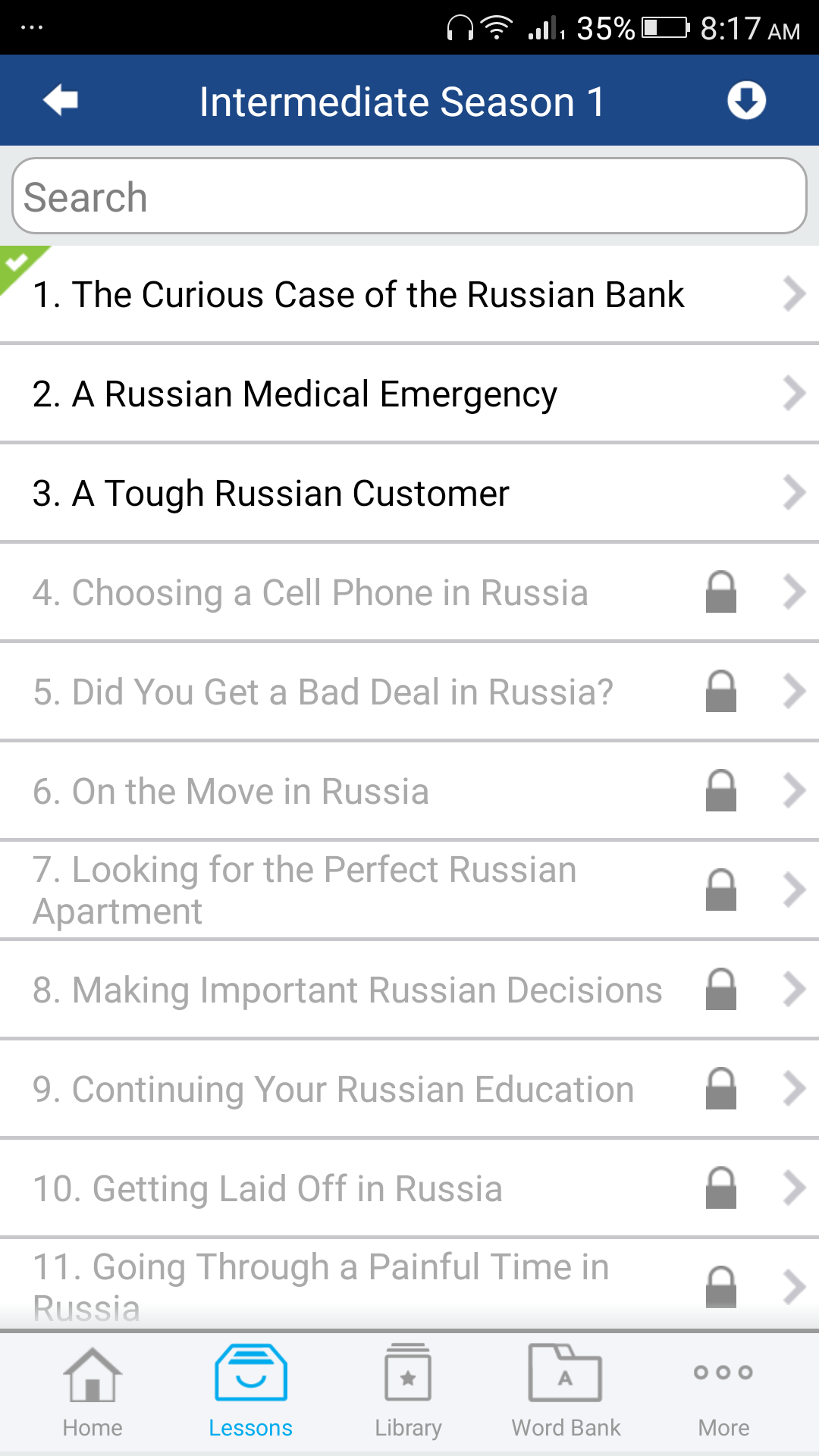 Innovative Language podcasts are one of the most popular and well-known listening resources among online language learners. And RussianPod101 is one of the most comprehensive Russian audio resources you'll find.
This podcast features hundreds of episodes covering all levels from absolute beginner right up to advanced.
Each episode features a dialogue about a common aspect of Russian life and culture, followed by a comprehensive breakdown of all of the vocabulary and grammar used in that episode. You'll learn lots of phrases that you can use in real conversations yourself.
There are show notes for each episode complete with transcripts of the conversation in English and Russian, and notes on new vocabulary and grammar points.
Each lesson is usually about 15 minutes long, which is shorter than other audio programs like Pimsleur. Personally, I prefer this length at it means I can easily find 15 minutes to listen to an episode even on the busiest days.
You can sign up for RussianPod101 here.
2. Slow Russian Language Podcast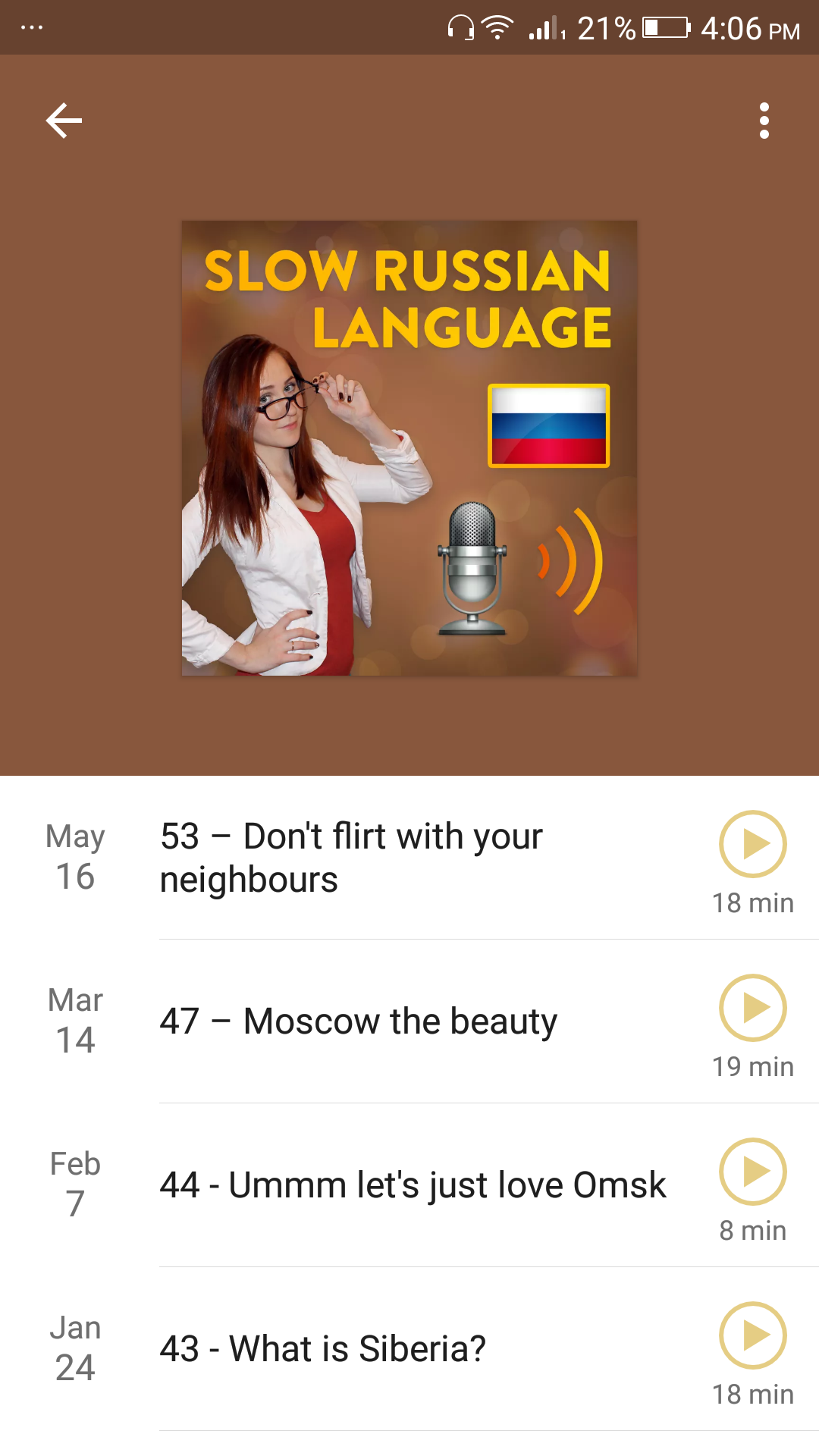 As beginner, it can be hard to find appropriate listening material. Of course, the ultimate goal is to work with normal native speed audio. But at the very beginning, that's just not realistic.
That's why the Slow Russian Language Podcast is perfect for beginner and intermediate learners. Slowed down texts are easier to understand and allow you to get to grips with the language before you start speeding up your listening!
The podcast is presented by a native Russian speaker, Daria, who does a really good job explaining all of the vocabulary and phrases you hear in the audio. She also creates episodes about really interesting topics. One of the things I loved most about the Slow Russian podcast is that it helped me learn something about Russian life and culture as well as about the language. For example, there are episodes on subjects as wide ranging as 'Daily Life in Moscow', 'Do the Baltics really hate Russia?' and even 'The Russian Education System'.
3. News in Slow Russian
No matter what language you speak, people love to talk about current affairs. It doesn't matter what's in the news – politics, sport, fashion…
News in Slow Russian gives you daily news in small bite sized chunks so you can practice your listening in just a few minutes a day.
What I really love about News in Slow Russian is that it allows you to make listening to Russian a daily habit with short and interesting audio recordings every day.
Do you have 5 minutes on your way to work or during your lunch break? Perfect – you can fit in an episode of News in Slow Russian.
The fact that the episodes are short also makes them easy to repeat, which is an important part of the listening process!
The podcast helps you learn relevant vocabulary that's likely to come up in real conversations AND it encourages you to practice a little every day.
4. Easy Languages: Russian
Practicing your listening doesn't just have to be about audio, you can use video resources too.
One of best I've found is the Easy Languages channel on YouTube.
What I love about this channel is that it exposes you to real, natural spoken Russian.
Each episode features a single question, which the interviewer asks to people on the streets of Russian cities.
The fact that each video only features a single question allows you to hear multiple answers on the same topic and means you have more context for trying to understand what people are saying.
Plus, the videos are subtitled in English and in Russian so you can easily follow along even if you're only a beginner.
Lastly, most of the episodes are only about 4 or 5 minutes long which means they're short and easy to repeat. You're not going to catch everything the first time you hear it so working with clips that you can easily repeat a few times is a great way to improve your understanding.
5. LingQ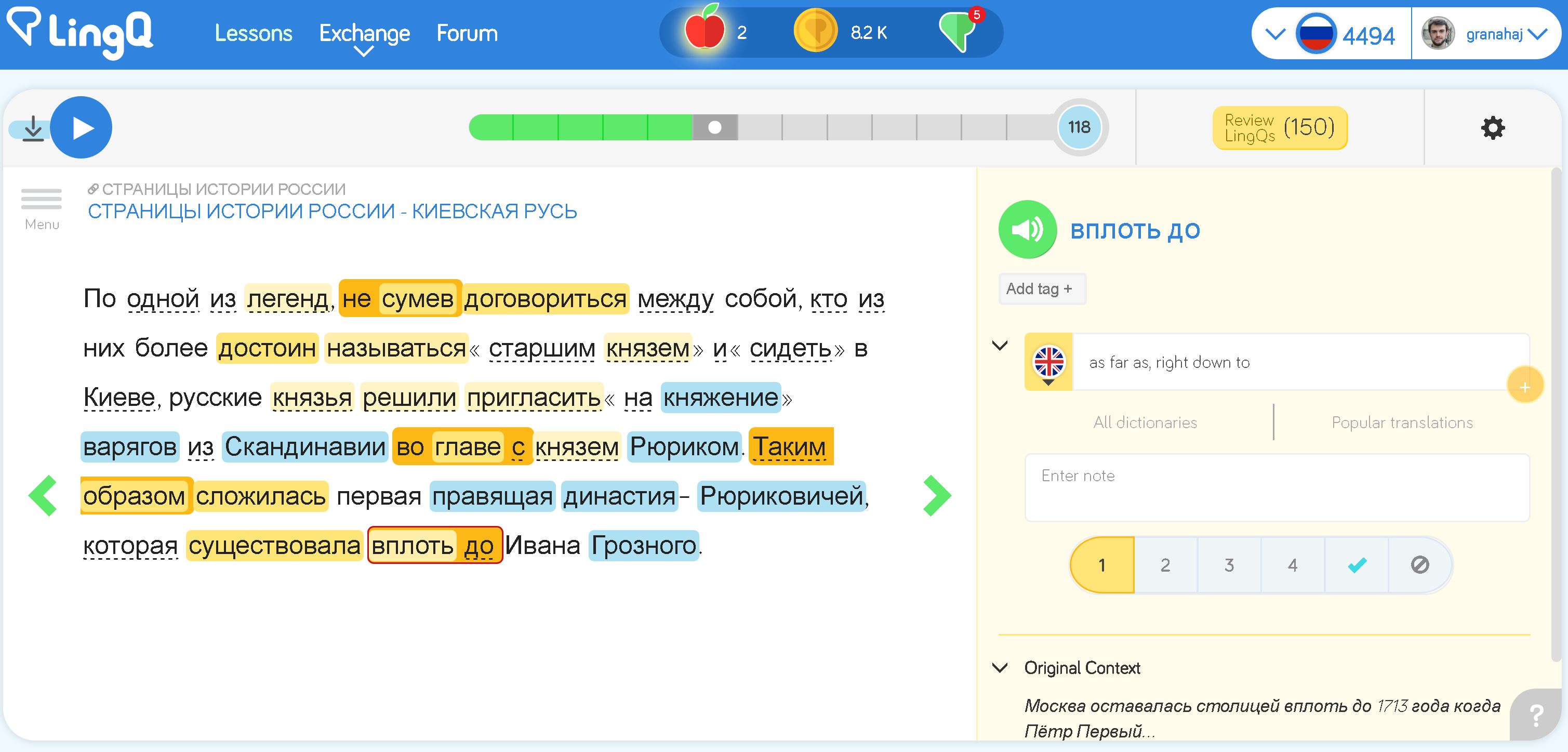 Of all the resources mentioned in this post, LingQ is probably the one I use the most.
LingQ is an application which allows you to learn languages through reading texts and listening to recordings of them. The basic idea is that you can listen to a recording, read the text and look up any new words you don't understand with a single click! The app also tracks which words you know, which words you've looked up before and which words are completely new to you and highlights them in different colours.
Their library of Russian recordings and texts is easily the largest I've come across and they cover quite a variety of different topics. This is the real value of LingQ for me. I don't have to spend hours searching for interesting content that has both audio and text, LingQ does that for me.
The recordings/texts are even organised by level, so you can easily find something that's right for you even if you're just starting out with Russian.
6. Euronews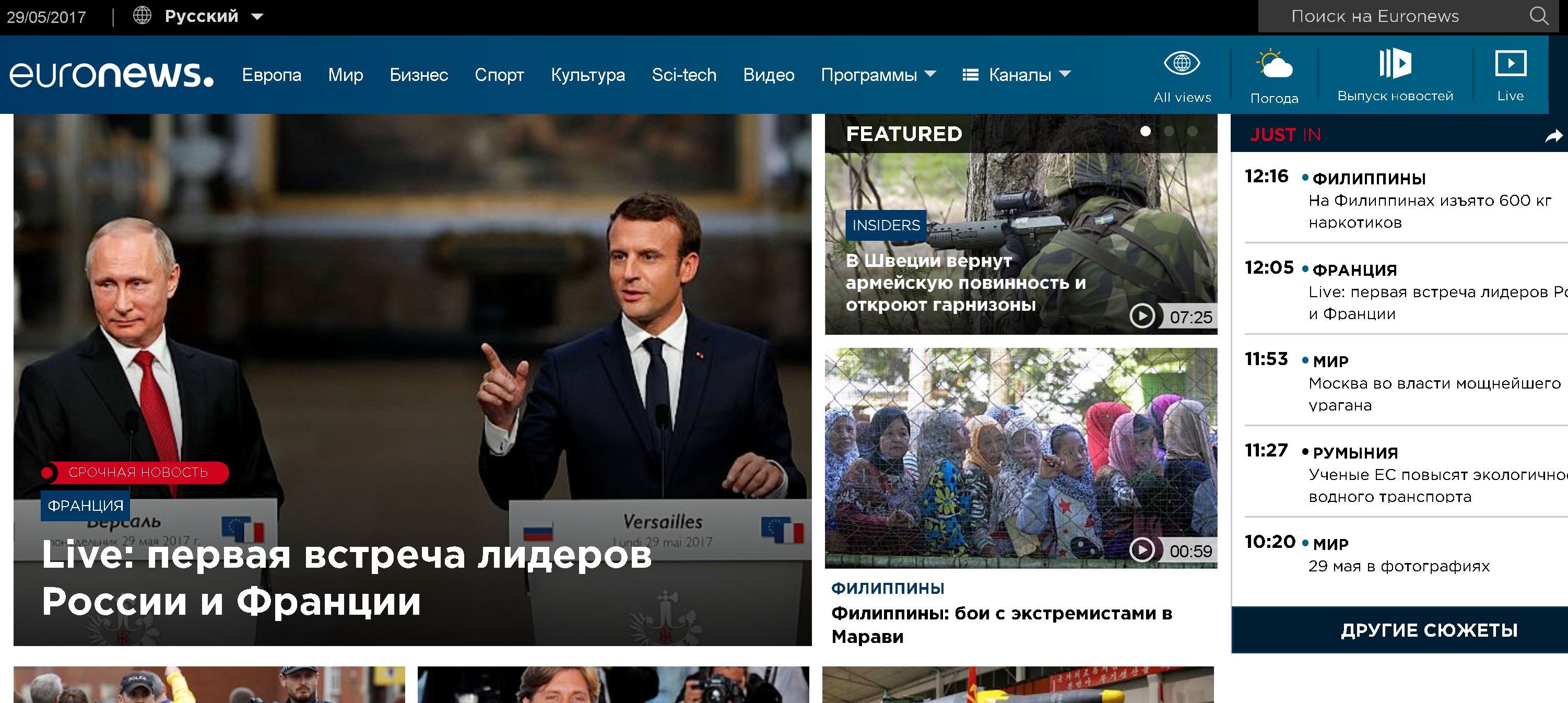 News and current affairs vocabulary is always useful because these trending topics will inevitably come up in conversation.
Euronews is an ideal place to pick up this vocabulary because the text in each of their news stories is normally a word for word transcription of the audio in the video report. This makes it a goldmine for learners!
The videos are short (normally 2-3 minutes), so they can be easily repeated. And, if you use the site regularly you can follow developing stories over a number of days to repeat vocabulary for specific topics you're interested in.
Euronews is not just a political news site. It also has extensive sections covering sports, lifestyle, travel, science and many other topics so even if news isn't really your thing, you'll probably be able to find some interesting content there.
7. Maria Zdorovetskaya – Easy Russian
Maria Zdorovetskaya's Easy Russian YouTube channel has a variety of different videos, some ideal for beginners, others which are more suited to intermediate and advanced learners. It's run by Maria, a Russian vlogger living in the USA.
You'll find lots of fun and interesting videos on her channel discussing various aspects of Russian life. Many of these videos have captions in Russian or English which make them ideal for learners, especially those at intermediate and advanced levels looking to get more exposure to fast, natural Russian.
Maria also has many videos specifically created for Russian learners which are spoken in slower Russian and focus on topics related to learning the language, such as pronunciation. These videos are perfect for beginner and lower intermediate learners because they encourage you to start listening to Russian from the beginner and learning through Russian rather than through English.
8. Rhinospike
Rhinospike is a community-based website where language learners and native speakers can record texts for each other.
The website works on a credit system. For every 3 recordings you make for other people, you earn 1 credit which you can then use to have something recorded for you. Alternatively, if you're short on time you can also purchase credits on the site.
Rhinospike is incredibly useful because it allows you to take any text you're interested it and turn it into a listening resource. This could be a blog post, a magazine article, an excerpt from a book or even a wikipedia entry in Russian. Just upload the content you'd like recorded and wait for someone to complete it for you.
Making your learning fun is one of the keys to maintaining consistency when learning a language and Rhinospike ensures you can always create listening content that you'll enjoy working with.
9. TuneIn Russian Radio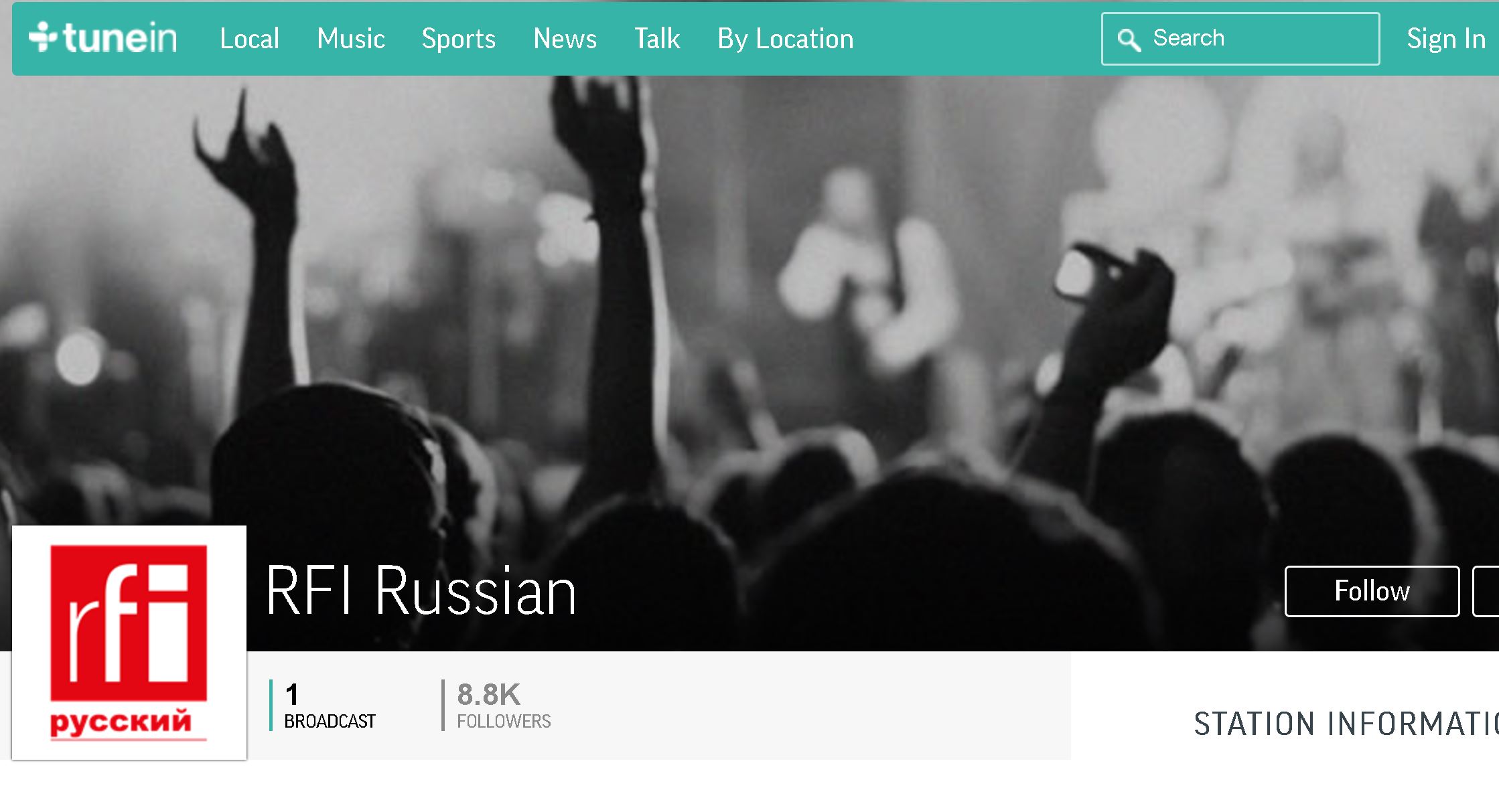 Have you ever wished you could just go and spend a few months in Russia to really immerse yourself in the language? Well, much as travel can help you learn a language, it's not a necessary part of achieving fluency.
You can still immerse yourself in the language from home using platforms like TuneIn to listen to Russian radio.
Tunein is completely free and there are hundreds of Russian language channels to choose from.
Of course, listening to radio has it's positives and negatives. There are no transcripts available for live radio so you really have to depend on your ear! This makes radio ideal practice for upper intermediate and advanced learners who want to immerse themselves in the language but it can be quite frustrating for beginner learners.
One of the best things about listening to Russian radio is that it immerses you in the culture of the country as well as in the language. By listening to the radio stations Russians themselves are listening to, you'll learn about modern Russian culture and hear what native Russians think about current topics.
10. Real Conversations
Normally, when we think of conversation the first thing we think of is speaking. But having real conversations is also a fantastic way to practice your listening!
After all, every conversation has two sides. The great advantage of using conversations to work on your listening skills is that you get to practice two elements of the language at once: listening and speaking.
One of the best sites for finding conversation partners is italki. italki is a language marketplace and exchange where you can find tutors to help you with Russian as well as native Russian speakers interested in language exchanges.
The key to getting the most out of your conversations is to ask your teacher or language exchange partner to only speak in Russian.
This challenges you to really listen to what they're saying and take as much meaning as possible from the context. If you rely on English translations all the time, your progress will be slow. But if you keep the conversation in Russian, you'll soon start to get used to the speed and rhythm of the spoken language.
So, there you have some of the best and most interesting resources for practicing your Russian listening skills! Now, it's up to you …
At the end of the day, it's the time and effort you put into your listening that will determine how much progress you make. The resources you use are important too, but only if you're making the time to use them regularly.
Take the time to try some of these materials, choose the ones you like best and then get started! Through consistent listening practice over time you'll start to adapt to the speed and sound of Russian and you'll see an improvement in your listening comprehension.