The 4 Essential Language Skills – and How to Improve Them
---
So, I asked on Facebook about which of the four essential language skills you most struggle with:
Reading
Writing
Listening
Speaking
And wow, did you answer!
The Fluent in 3 Months team were OVERWHELMED with the response we got – and so grateful for your openness and honesty.
Here are just a few of the responses you gave:




What are the essential language skills you struggle with most?
Overall, the results came out like this: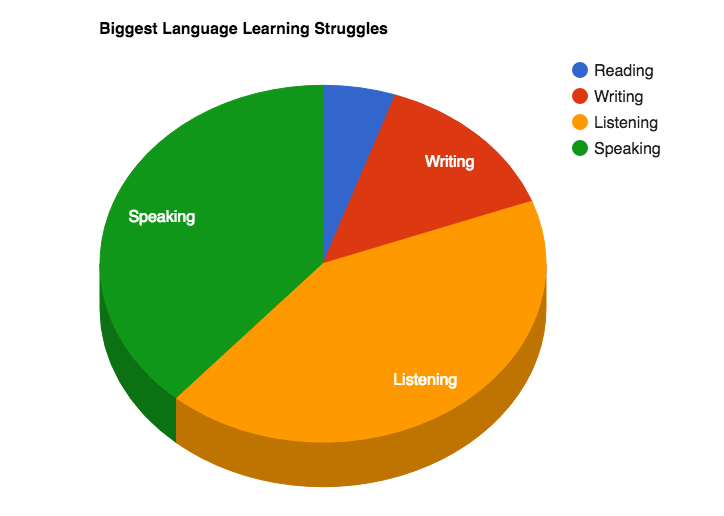 As you can see, listening and speaking came up as the biggest struggles – pretty much equally.
So, I decided to put together a collection of some of the best language hacking resources from Fluent in 3 Months that will help you improve these skills.
Let's get stuck in!
Get Speaking! Resources to Improve Your Speaking Skills
Since I discovered my language hacking method, I've advocated the Speak from Day One approach to language learning.
Speaking a new language – even as a beginner – is the most effective way I've found of learning a language.
For most language learners, their end goal is to speak, so it's really satisfying to be able to do this right from the start.
Here are the articles and resources I'd recommend to improve your speaking skills:
I'd also recommend that you check out my Speak in a Week email course. This free course introduces you to the principles of language hacking, and gets you speaking your target language in front of an audience in just seven days.
Now Listen Up! How to Improve Your Listening Skills
Listening is probably the hardest skill to master in a new language.
When I took the C2 exam for German (mastery level), listening was the only skill where I fell short. And it seems I'm not the only one who has found listening a struggle:




Here are the top articles on Fluent in 3 Months to help with your listening skills:
Read All About It! Improve Your Reading Skills with These Resources
Reading didn't feature as a major struggle in your Facebook comments. That's probably because most language courses start with reading (rather than speaking, as I'd recommend).
Here are the top Fluent in 3 Months articles on developing your reading skills:
Write it Down! Resources to Improve Your Writing Skills
A few of you mentioned writing as a struggle, though it didn't come up nearly as much as speaking or listening. As with reading, my guess is that writing comes more easily because most language courses focus on writing.
Here are our resources for improving your writing skills in a new language: