The month I lost faith in the system, and gained it in humanity
---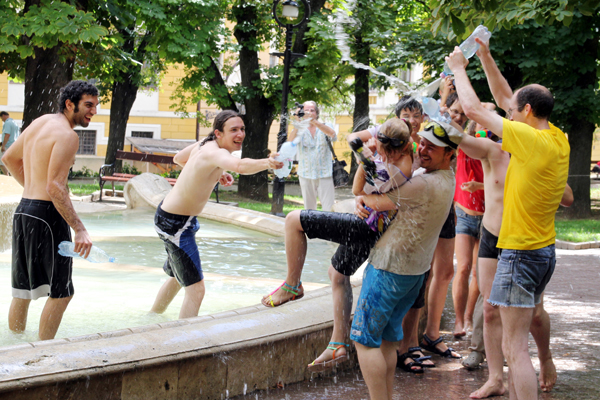 Even over 16 months after I wrote it, the 29 life lessons I've learned in travelling the world for 8 years straight continues to be the most popular post on this blog.
Most posts since then have gone back to discussing language learning, but I'd like to return to the topic of expanding your mind through travel, people, and some incredible life-changing experiences I've had, in this and several other posts to come with time.
In fact, if you include the time before my 8-years-straight travel that I spent abroad in my college years, and add on the time since writing that post, I am now approaching an entire decade of total travel time. So, I'm feeling reflective again and want to cover this in several posts.
Today, I want to mention one of the most important points in my life, when my destiny changed and my faith in the traditional system of study hard, get a job, work up the ladder, and retire with as much money as possible, was absolutely shattered and I decided to start over from scratch, and why I'm really glad that I did.
Sorry it's a little long, but I do want to give the full picture so you have the context of how my philosophy on life evolved dramatically in a very short time.
My time in the rat race, a.k.a. métro, boulot, dodo
I had graduated university with a degree in Electronic Engineering back in 2003, moved to Spain immediately, failed in learning Spanish and then realized what had been holding me back for six months. During this year I was mostly teaching English.
After a year in Spain, I moved to Italy and worked in an International Youth Hostel in Rome. It was a fascinating experience, but all the while I kept thinking that teaching English and working in youth hostels simply wasn't advancing my career. I wasn't putting the degree to use at all.
This is why I decided that my "gap year" of a year and a half was to come to an end, and it was time to get into working as an electronic engineer.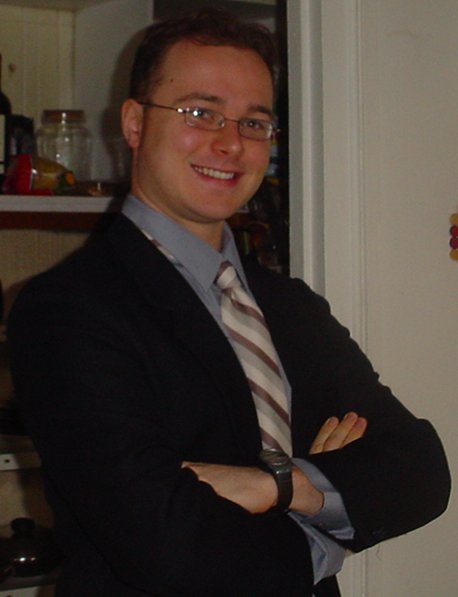 I still wanted to learn a new language in the process though and had decided French would be the next one, so I applied for many internships and eventually heard back from one in Paris that was for a position that looked the most interesting by far, which focused on my specialty in communications theory. After some phone interviews, it was all set up and I was good to go.
The internship contract was for nine months, and I was to be paid €1000 a month. 12k a year is a pretty damn measly wage when you are living in one of Europe's most expensive cities, but it was an investment for my future. You have to start from the bottom and slowly work your way up.
Those at my job were really nice and helpful to me, and endured my very slow attempt to learn French, and the fact that I was really out of my element in working in an office environment. They would always joke that my taste in ties was abysmal.
A two euro second-hand tie I found in a street market was all I could really afford since all my money was immediately spent on food, rent and public transport.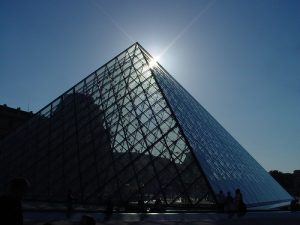 My apartment, was inside the city limits so I wouldn't have much commute time and it gobbled up the majority of my earnings. And it wasn't even worth it – it was on the 11th floor with no lift, I shared it with someone else, it was ugly, broken down, and the one bathroom was en-suite to my bedroom, so my flatmate kept having to wake me up in the middle of the night to use it.
Every single day, all I would ultimately do was to take the metro… work… and go home and sleep. And as such, I started to understand the French equivalent translation of "rat race" really well. Métro, boulot, dodo. Metro, work, sleep. Months and months, day in, day out.
When I got home I was too tired and too poor to go out, and didn't have a social life at all. I was still too shy to be approaching strangers, Parisians weren't particularly nice to me any time I tried, and I wasn't part of any clubs or didn't even try to find student parties I could join in on.
The phone call that woke me up
The months rolled on by, and I slowly started to really dislike where I was living, although it was my own fault for not trying harder. But it was all "an investment for my future".
At the end of my contract, I'd theoretically have the experience on my CV (résumé) to work a real (non-internship) contract for maybe starting at 25k or so, and just keep getting higher and higher with time! I'd be able to afford to go out to the cool clubs and have a life, and I'd have a supermodel nymphomaniac girlfriend too, of course. Everything would all be perfect, after my internship experience. Right?
January very very slowly blurred into July and Bastille Day and several days off were quickly approaching. I had managed to save up enough money to buy myself a return flight to Italy, with 500 euro spending money left. I wanted to visit friends, travel a little and enjoy the time around my birthday away from work.
But around this time I had also been discussing staying on with the company (I enjoyed my work, as much as I disliked the city), and starting work as a REAL hire with a proper wage. The day before my flight, I called up the financial department and asked them what their decision was. They were glad to inform me that they would be happy to hire me full-time in September when my internship contract ends!
Excellent! The pieces of the puzzle were falling together. Not sure if I'd stay on in this company forever, but another year or two of real engineering experience and my CV would be as good as gold! I hated Paris… but just a couple more years and then the world would be my oyster!
"So… how much will the new wage be?"
I was hoping for the 25k, but optimistic that since I was trained and experienced in the company, they may even go into the 30s! What he actually said was like the biggest slap in the face though, and a piece of me died that afternoon.
€1200 a month. A tiny increase on what I had before. In Paris.
This is 14.4k a year. I was speechless, and said I'd discuss it with him after the holidays.
I hung up the phone, went home, and realized that I wasn't actually that valuable an asset to the company, and that I'm a pretty worthless and replaceable cog in the system. Tens of thousands of new engineers are spat out of the system every year, and many would kill for my job. And as such, I really am not worth paying that much. It could be years before I'd get that 25k.
I was so depressed about this that I slept in and missed my flight – on my birthday, and the one thing I had been looking forward to for months.
Does money really determine how much you can do in life?
Looking at the clock and seeing that I had missed my flight made me realize that I didn't care any more – it wasn't about saving up money, some things in life are yours for the taking. I was NOT going to miss this trip to Italy.
I took the 500 euro life-savings I had, and spent 300 of it on a last-minute flight. This was no time to feel depressed – I was going to enjoy my holiday. I had earned it.
I hadn't really done much real travel up to then. I had just been living in particular cities. So I wasn't quite aware of the complications of finding last-minute accommodation during the summer in a touristy country like Italy. I made it to le Cinque Terre, walked to the only youth hostel there, asked for a bed, and they told me there were booked out that day.
I still had time to get the train back out and stay at a friend's house, but it was so far away that I'd not get to see this part of Italy that I was looking forward to at all. I desperately tried a few hotels, but the rate for one night was my entire spending budget for my time in Italy.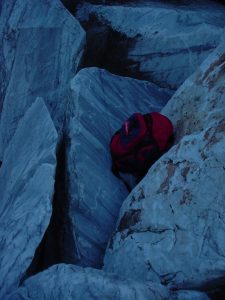 So, I found a rock on the beach and slept there for the night. Without a tent, sleeping bag, or any kind of warm cover, I simply used my backpack as a pillow. I took a photo of my "bed" to remind myself.
Every single day of my life since that night, I have appreciated having a real bed to sleep in, and never taken it for granted. Even the hardest beds in the dirtiest apartments aren't worth complaining about when you compare it to an unsheltered rock like this.
Luckily it was just the one night, and I could move into the hostel the next day. I managed to explore all the five famous villages, hike between them, and even kayak between them. It was a wonderful experience to appreciate nature again, after the entire year in a concrete jungle.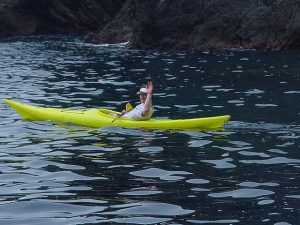 After going up to Turin to visit a friend, it was time to go back to Rome for my flight back to Paris. I had already paid for my train ticket, and a friend would meet up with me to drive me to the airport in Rome, but unfortunately I could only stretch 200 euro so far and after a week my money had run out after I had paid for my last night in a youth hostel in Genoa.
All I needed was bus money to the train station – breakfast was included in the hostel, and my friend in Rome would feed me in his house before we'd go to the airport, but I was literally down to a few cent to my name and in a city where I didn't know anyone. I had slept in once again so it was too late to walk down the hill for two hours all the way to the station (which was plan A), so I decided to forget about money and see if I could outwit this situation.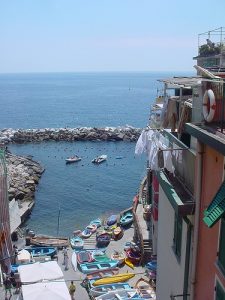 I found an American guest at the hostel, and befriended him, knowing well that Irish charm could get me out of this situation, and works easiest on those from across the pond. I asked him all about his travels, what brings him to Italy, and genuinely tried to get to know him without talking about myself. Finally he asked about me, and I shared my woes of sleeping on a rock, spending my budget on the last minute flight, and wondered if he had any bright ideas for how I should get to the train station.
He found my story so interesting, especially in the narrative that I had told it (dramatic pauses and all – I actually had a small audience in the hostel at this stage) to keep his attention, that he simply handed me a twenty euro note, and said "Dude, get a taxi, it's on me!" I didn't know what to say, so he told me to just make sure that I pay it forward some day.
I've come across struggling travellers many times over the years when I'm better off, and have indeed listened to their stories and seen if I could help out. Since I would hitch-hike too in the years after this trip, I now almost always pick up friendly looking hitch-hikers. I can afford to rent a car now, but I know very well what it's like to not have that luxury and rely on the kindness of others.
I don't believe in karma, but sometimes it is nice to treat people the way you would like to be treated in their situation, especially if you can somewhat relate to their situation, even if you don't share it right now. As such, I pay the generosity of this man and others I have met forward every chance I get.
A discovery that would change everything
So, on my flight back to Paris, I was thinking long and hard about my recent experiences. Do I really need to work my life away for a chance at that 25k salary, and then the hopes of being a company CEO with a 200k salary when I'm 50? Why? Seriously, what is actually the point?
I had stretched 200 euro to give me such unique experiences over a week, and that was while staying in hostels and eating out all the time. Surely if I wasn't even travelling, or watching what I spent better, I could do a LOT with a little money? Maybe money doesn't decide how much enjoyment you can get out of life in the long run, even if you don't have much of it?
And just as I was thinking about this and flicking through the in-flight magazine, I chanced upon an article about an interesting new website for budget travellers, Couchsurfing.
When I joined, there were only about 10,000 members (there are currently almost 4 million members), and back then there was a chat room that had an interesting crowd of people that I got to know.
Up until then, I would have considered so many people that I see on the site as those who don't understand how the world works because they are not working "professional" university educated jobs. I was starting to realize that it was those of us trapped in the system who truly didn't understand how the world works.
Through Couchsurfing I met many people who are very different to the engineers and businessmen that I had been spending most of the year with: magicians, palm readers, artists, photographers, soldiers, writers, chefs, and even hula hoop dancers.
Normally, I would not quite have been so open to spending time with such a varied amount of people. But even the palm readers (which, as a sceptic, I still think is silly) and I get along great and are close friends of mine. These people have taught me more about life than any amount of Bachelors, Masters or PhDs could ever hope to provide.
And before you think something like hula hoop dancing is a waste of time, you might want to check out this video which really shows you how beautiful an art form it can be (NSFW):
(This video was at this year's Burning Man, which is an event that I also discovered thanks to Couchsurfing)
A change in direction
Over the next weeks, I got to know a very different world through the small group of Couchsurfers. I decided that working my life away for the chance of earning more money, and eventually lots of money, so that I could spend that money to be happy, was pure insanity. It was like what that Alan Watts Music and Life video I shared in the life lessons post conveyed about deferring happiness.
I declined to continue working in the same company and resolved to get out of Paris. On the last day, as a farewell gift they gave me a gorgeous and expensive looking tie. To this day, it sits in my suitcase never to be used at anything but weddings. I don't like wearing a suit and tie, so I don't plan to wear one to work ever again.
Over the space of just a few weeks in July of 2005, I had lost my faith in the corporate ladder and more-money-focused system that my education had been preparing me for my whole life, and decided to stick to find a less conventional path, living a rich life on a normal salary,
I left Paris for Toulouse, where I did spend time with students, and going to clubs and events I normally would not have, and I followed some simple rules to increase life opportunities to expand my working experience in ways that would increase my life résumé, even if they would do absolutely nothing for my résumé as an electronic engineer, eventually ending up as a travelling freelance translator, and then a few years later a writer, and even a TEDx speaker.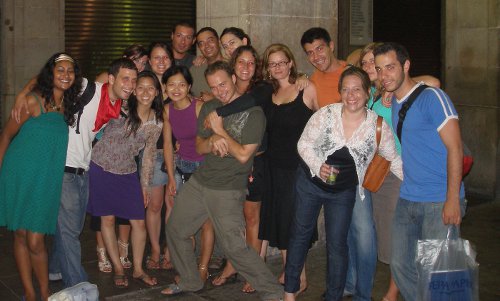 I don't regret studying engineering, because discovering how we can apply the scientific method to understand how the world works and design things to help us work in it better has always interested me. And ultimately, the mentalities of practical reasoning I've learned as an engineer have helped me so much in life, including language learning.
But school and university education never gave me the most essential information I would need about the realistic world of the work-force and my place in it, or much more importantly how any of this is directly relevant to my happiness and satisfaction in life. There is always this unspoken presumption that if you work hard, you will be successful, without any specific addendum.
In fact, shortly after I got to Toulouse, I got a job that paid me three times what I was earning in Paris, such that in the space of just one month I earned enough to buy return tickets to Brazil and spend three months there not working at all. I didn't get this job based on my work experience, CV, background education or references. I got it based on what I learned in that week travelling on a poor-man's budget in Italy, and I simply charmed my way into a unique working situation that I was technically not qualified for.
Taking chances and relying on interpersonal skills is something that I am finding to be way more powerful than having faith that the system will treat you well because you've worked hard, and "deserve" it.
The world can be a very cruel place when you rely on destiny and the system to give you what you think you deserve. On the flip side, it can be a wonderful place when you make the human connections and put enough into it to get out of it what will ultimately benefit you.
Continuing with this idea (with one exception a few years later, which was also an important learning experience) has meant that I've been much happier with my life, my working situation, not being obsessed with earning more money as the ultimate goal in life, and focusing on what matters on a day to day basis.
When I finish work, instead of being exhausted and only having the energy to wind down for the next day when I get back into the rat race, I spend time appreciating interactions with other people.
It's much better to work to live, rather than to live to work.
Hopefully you can see how this month back in 2005 ultimately opened my mind to expand on my travels and scope of experiences to make me the person I am today. I hope I continue learning.