New mission: Speak Turkish in two months!
---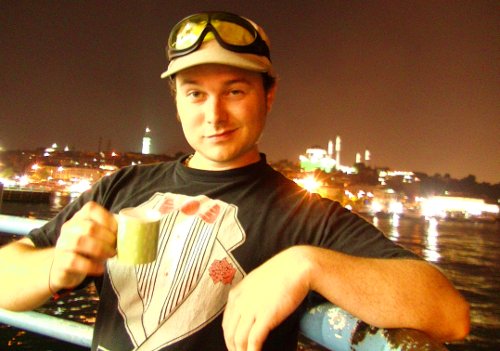 Hello from Istanbul – my new home for the next two months! My mission is to speak conversational Turkish by mid August!
This will bring the total number of languages I've dived into this year to four (Tagalog, ASL, Dutch & now Turkish) as I had initially set out to do. I'm only giving myself two months as I'll have other things that I've already set time for from mid-August.
Anyway, I've just arrived and within three hours I've moved into my new apartment, walked 5 minutes down to Galata bridge to snap this quick photo with a Mosque and the sea of Marmara in the background, and written this post. I've actually been travelling for over three full days from the other side of the planet and am exhausted.
So, the mission begins as soon as I wake up tomorrow after some well needed rest 😉 I plan on being able to converse spontaneously in Turkish, at about the same level as I had reached in Hungarian last year, before I leave.
Turkish will obviously be an interesting challenge, as it isn't remotely related (linguistically) to anything I've ever learned before. I'm starting from scratch of course! But I don't plan on pessimistically whining about how hard it is – I'll learn it and I'll speak it – simple as that.
As always this is not a linguistic mission. The reason I am here has nothing to do with Turkish being in a different language family (every day I get suggested new languages to learn by email, twitter or Facebook for that reason alone), or because it would be a "challenge". I am here to meet and get to know Turkish people. As I keep saying, English speaking tourists are terribly restricted from doing this everywhere in the world, and I hope my own demonstrations, explanations and encouragement will inspire others to stop being so damn lazy as they travel.
But yes, I'll be sure to share my language-only realisations with you too 😉 For example, Turkish is written using the same script as most European languages so this makes my job that extra bit easier as I don't have to worry about learning a new script.
The idea of living in Turkey (and more specifically, Istanbul) has fascinated me for a long time. This one city is on the actual transition between Europe and Asia, with both cultures colliding and getting along fabulously. My flight landed in Asia, but as I crossed the bridge to "go home" I saw a sign that said "Welcome to Europe".
It is also the first Muslim country I have ever lived in, but it is also a secular country, which gives it way more of a western sense of liberty, while still keeping true to its own culture. I see it as absolutely perfect to transition into Asia (as I will be spending more time there next year), while still having many features of western culture that I appreciate.
I look forward to getting to know about these cultural aspects, and challenges contained in them, and sharing them on the blog with you over the next two months, while I improve on my conversational skills enough to be able to make friends who speak little or no English at all. As always, weekly updates will be sent in the email list and I'll occasionally (like next week) give a blog post update about the mission, as I write about other things that have helped me to learn my languages!
So what do you think? Want to follow my Istanbul adventure? Have any words of wisdom? Share them with us in the comments below!