Two months in Budapest
---
My time in this Amazing city has come to an end!
I'm quite happy with the progress I made in Hungarian, and genuinely sad to leave! As this post goes live, I'll be somewhere over the Atlantic, on my way to Las Vegas to attend the Blogworld conference to meet some blogger friends and make some new connections hopefully!
Next week I'll officially introduce the next language mission on the blog  (Yep, I only get a one week break! That's all the English I can stand 😉 ) But first, a summary of my time in BP!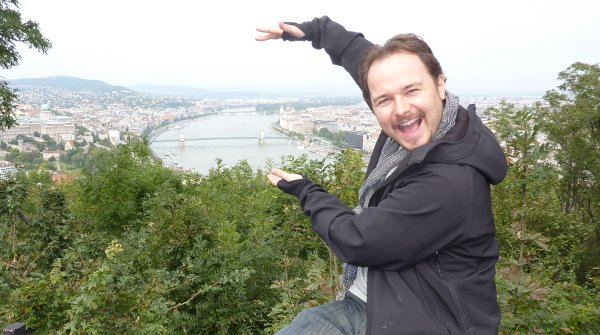 Time in the apartment
When I arrived, as always the first thing I do is look for an apartment. While still in Berlin, I had arranged to see several places online and looked at all five of them in the one day. By the afternoon, I knew which one was the one I wanted and came back with the deposit. I didn't realise until a few weeks later that the name of the street, "Sörhaz utca" meant "Beer house street". Not quite appropriate for someone that doesn't drink!
As always the apartment was my base for working, and for hosting Couchsurfers so that I could maintain my other languages. I was especially eager to host Germans and actually spoke way more German at home than any other language! This also helped me to write the guide "Why German is easy".
As always, I spend quite a lot of time in the flat – after writing the German guide, I decided to get more active on this blog and have been writing three posts per week (apart from last Saturday), as well as writing the e-mails. That's quite a lot of work! I've also been coordinating and rendering the files of the many translations that were included in the Language Hacking Guide 3.0 update. I may not have a consistent job (even my translation work wasn't consistent), but working behind the scenes on Fluent in 3 months has indeed been full time work.
Luckily it is indeed paying my bills. I'll write more about my work and the progress of how this blog has been my main source of income on Saturday!
But unfortunately – I was in this house for the vast majority of my time in Budapest! This meant that the Hungarian mission was less than part-time (most of my day actually involving doing work in English). I'm hoping to coordinate and manage my time better so I can invest more time in future language missions.
The city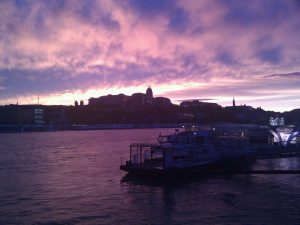 Of course, I didn't come to Budapest to spend all my time in an apartment! When not working, I was out and enjoying this amazing part of European history and culture. Anything I could write about Budapest and how beautiful it is wouldn't do it justice.
The city was a breath of fresh air after living in Berlin, which has no real centre and doesn't offer the same kind of gorgeous panoramic views. Just a couple of metres from the door of my apartment was the Danube and I quite enjoyed going for walks along it, looking at Buda (see photo), or simply crossing the bridge to look back at Pest.
My extremely central location meant that I was right in the middle of the action – the universities were a short walk from where I lived, along with most of the nightlife. In my first weeks I went out several times a week, but since September I have been much busier working.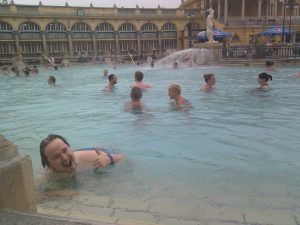 As a vegetarian, eating out in the city wasn't hard thanks to my location. Most parts of Hungary would cause a problem, but the density of restaurants around where I lived meant that I had plenty of options. Of course, there are expensive tourist restaurants all along Váci utca, but I would eat regularly at those a short walk away, such as Govinda, instead.
It was close, inexpensive and completely vegetarian. Considering the amount of time I spend at home, I prefer to eat out more regularly for a change of scenery and to meet up with people.
I also found the public transport very efficient and felt as comfortable and safe in Budapest as I have in any European city.
One really cool thing about BP is the thermal baths! I checked out most of them, always going with my German friends and couchsurfers! I found the best one was the cheapest and biggest one, Szechenyi. Always a really relaxing and enjoyable time!
The people
The reason I was here wasn't to document the city itself in any way – I genuinely just wanted to get to know some Hungarians. I had enjoyed their company in other countries and was glad to see they were just as nice on their home turf!
They had a huge amount of patience listening to me speaking Hungarian (even when they spoke another language I did) and were extremely helpful. I made some great lifelong friends here, many of whom I'll definitely be seeing again some time. Having these friendships entirely through Hungarian was the biggest success of the mission for me.
I learn a language for social purposes – even if I didn't try much Hungarian food or any of the beer, and I am not so interested in seeing many pretty buildings or travelling the country apart from a week in Pécs before moving to Budapest – what matters for me is that I got to know Budapest and Hungary through the Hungarians themselves.
After the first weeks of some parties, I met up with most of my friends for coffee or lunch. Chats were always general and interesting.
To help me progress with my Hungarian quicker, I decided to get some lessons – but not in a school, and not even with a Hungarian language teacher! Since it worked so effectively for helping me to improve my Portuguese, I went looking for some singing lessons! I tried some standard language teachers first, but didn't enjoy the lessons much. I can learn grammar and vocabulary on my own. I mostly wanted regular meetings with someone specifically for the purposes of improving my spoken Hungarian, since other meetings with friends were genuinely social and they would rarely correct me.
Kata was a huge help in making sure I progressed in Hungarian. In the end, I didn't actually sing in our lessons, but I enjoyed her teaching attitude a lot – she didn't annoy me with any grammar, but was lots of fun and helped me make some good progress while telling me some really cool stories in Hungarian.
Ironically, I'd actually speak more English with her than Hungarian! Even though it wasn't a classroom, the set-up just made me lose my mojo and I couldn't speak as naturally as I had elsewhere. This was my own fault for speaking so much English with her initially and keeping that up.
If anyone needs voice training / singing lessons, or well priced Hungarian conversation lessons while in Budapest, then you can e-mail her at hajnalkata [at] gmail [dot] com.
I found that I definitely had situations I was way more confident in. My proudest moment was a spontaneous invitation to go out with a bunch of local students and talking to the whole pub in Hungarian. I also somehow managed to get through an entire phone conversation with a friend and not need her to repeat what she had said.
I am considering this mission a complete success! Especially since it was only to really last for two months and I can genuinely converse with Hungarians.
Moving on
Most of the best parts of my time in Budapest with my friends are the kinds of stories I can't really blog about so well. Sometimes just hanging out with friends is the best story, not really worth telling others.
I will be maintaining my Hungarian for the rest of the year (more on that soon), and in November I'll write up a list of the grammar and vocabulary points that might help other learners of Hungarian, like I did for Czech and German. Kata helped me compile a great list of hundreds of cognates that were a good boost to start talking, despite Hungarian having seemingly no commonalities with other European languages.
Perhaps with another month, I could have improved my Hungarian all the way to "fluency", but despite being sad to leave, I am ready to leave. I'm a traveller, and another interesting adventure awaits me on another continent. Besides, I've been avoiding winter for three years in a row and I'd like to keep that up! 🙂
Szia Budapest! It's been a pleasure!
---