Travel to Japan: The Must-Knows
---
Looking to travel to Japan? There's a lot to consider and plan out, but don't worry! We're here to share some great tips, travel hacks, and ways to save money on your trip.
Japanese tourism has been halted the past few years, but Japan is now opening its doors again. So it's never too early to start planning.
Besides booking flights, hotels, and considering the travel guidelines… You'll also want to plan out where you want to explore, learn about the culture, and maybe a bit of the language too.
After all, if you show up in Japan unprepared, you may experience some culture shock. (And Japanese people will be really thankful you took the time to learn how to be polite!)
It's a lot to think about. So use this guide to help cover all your bases.
Japan Travel Restrictions
Since the world closed for a while thanks to the Virus-That-Shall-Not-Be-Named, Japan has had heavy travel restrictions.
Pretty much, only Japanese citizens or natives abroad could travel to and from Japan since early 2020. This was followed by strict quarantines in isolated housing for 2 weeks.
Japan's travel ban was finally eased after more than 2 years to much rejoicing! But what exactly does it mean? Can Americans travel to Japan now, for instance, where the virus hasn't been well controlled?
As of this writing, Japan has still suspended visa-free travel. This means you can only visit Japan if you have booked through an approved travel agency. Or if you have a work or student visa.
Japan has eased quarantine and testing restrictions from "blue" countries, including the US now (as well as Canada, the EU and UK, etc.). Proof of vaccination from these countries isn't necessary anymore – but may be required for reentry into your own country, so be sure to check travel from BOTH sides.
So travel to Japan from the US is still very limited, as well as all other countries.
When will Japan reopen to travelers?
Japan is currently easing into it with this new policy, so many believe by the end of 2022, Japan will be reopened to most or all travelers.
That makes this the perfect time to start planning your trip!
What Do I Need To Travel to Japan?
To travel to Japan, you'll need a valid passport. Negative COVID-19 tests from the past 72 hrs before you land are not required anymore.
If you're going to Japan for work, you'll need a visa. And some countries are required to get a tourist visa, although many countries are not, including the US, Canada, UK, Germany, Spain, South Korea, Mexico, and more.
That's the basics for getting there. Outside of that, you'll want to make sure to pack for the weather. For example, the summer months are called tsuyu, or "rainy season" for a reason. You may want an umbrella, rain boots, and a rain jacket if you're planning for next year's summer.
Here are some other suggestions of handy things to bring:
A universal adapter/converter. Even if you have the same type of outlet, you'll most likely need the voltage converter to not damage your electronics.
A battery pack to keep your phone charged on the go.
Make sure to have both cash in yen and credit cards on hand. You'll need both. Benny has found an internationally-friendly ATM card that refunds his ATM charges from all around the world.
Consider if you'll get an international SIM card or portable wifi to be able to use your phone on the go.
Plenty of space in your suitcase to bring home souvenirs.
Bring practical shoes! In Japan, you'll take off your shoes indoors if you're at someone's home or a traditional place such as a ryokan (traditional inn), temple, or traditional restaurant.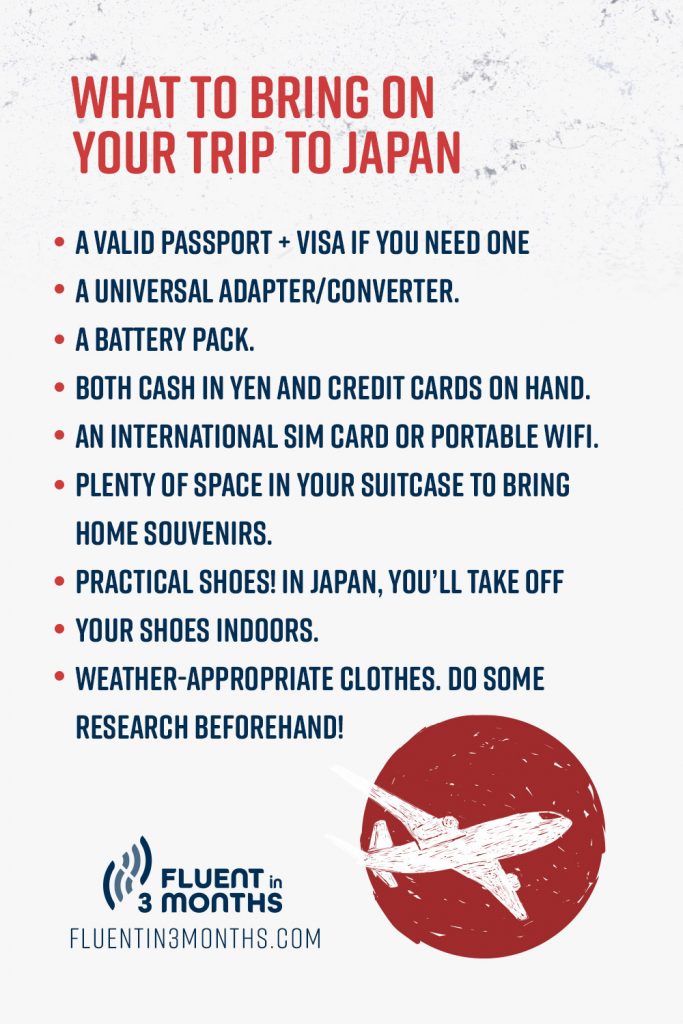 How Much Does It Cost To Travel To Japan?
A common question people have is, "How much will it cost to go to Japan?" This depends on a ton of factors, but most people know that Japan is one of the most expensive places to visit.
In general, you can get by as cheap as $65-$100/day in Japan. The average traveler tends to spend around $120-150/day, while those living their best lives on their Japan vacation tend to spend $200-300/day.
What to Budget For in Japan
Flights can be quite expensive depending on where you're coming from. For instance, flights to Tokyo from the US can cost anywhere from $800 to $2,300 USD roundtrip per person depending on where you fly out from. From London, it could be around $1500, or from China, only around $550.
Food could be pretty cheap if you enjoy 100 yen shops, convenience stores, and ramen. But if you plan to have a foodcation and eat your way through the districts of Tokyo and Osaka, then plan at least $50/day.
But as an example, you could eat ramen from a ramenya or yatei for around $8. And you don't tip in Japan.
Hotels and Hostels* will impact your budget. Ryokan, Japanese inns, and international/Western style hotels will be your most expensive options (around $100-300/night). Hostels or capsule hotels will be the cheapest (around $27/night).
A middle ground would be a budget Japanese hotel, which would run you about $75 a night.
Transportation is a big one. You'll want to get a Japan Rail Pass if you plan to do a lot of traveling around the country, because travel by train gets pricey real quick and the pass can save you money.
Buy your pass online ahead of time, but make sure you get the option that will actually save you money. If you don't plan to travel that much or your whole trip, the 7-day option will probably be your best bet.
For travel around a city, such as Tokyo, you'll want to get an IC card for the subway or take the bus.
Entertainment will vary based on your interest. But there are lots of free things to do in Japan, and beautiful sights and parks to see!
Last expense you may not think of – money conversion. This will vary depending on your country, but there is a small fee when you exchange for yen.
How to Save Money for a Trip to Japan
If you're looking to save money on your trip, no worries. Here are some tips to save on when traveling to Japan:
Use Scott's Cheap Flights to be alerted when there's a great deal on a flight to Japan.
Take advantage of 7-Eleven and 100 yen shops. Convenience stores like 7-Eleven have a lot of cheap food, like ramen, sandwiches, onigiri, and more. And 100 yen shops are exactly what they sound like – dollar stores where you can get nearly everything you need.
Check out free or cheap things to do! There are lots of famous and beautiful parks to visit, temples, and museums to see Japanese culture. You could also walk around different districts, such as Harajuku in Tokyo, and explore.
Buy your Japanese Rail Pass BEFORE you leave to save money, if you plan to travel by train a lot.
Make sure to have cash on hand (a lot of places don't accept credit cards in Japan). 7-Eleven wins here again – use their no-fee ATMs to get cash.
Avoid busy tourist seasons. Japan is especially expensive during Golden Week at the end of April through the beginning of May and during cherry blossom season. So costs around Japan and flights will be expensive.
Break up your hotel stays! Try a capsule hotel or hostel for a few nights if you're trying to save money but also want to splurge on a more expensive and traditional ryokan.
Plan ahead. Map out how and where you'd like to spend your trip, so you can make the best use of your time and look for deals.
Consider a new credit card with no ATM fees, travel rewards points and other perks for traveling abroad. (My brother has used points to go to Alaska so many times and Singapore from the midwest, USA, so this really does work if you're savvy!)
Shop wisely. A lot of items in Japan are much more expensive than elsewhere. Do your research, but some things may be worth it – like your favorite manga in Japanese, or music and movies that are hard to get outside of Japan.
Related learning: Benny presented a free webinar called How to Travel Without Breaking the Bank that you might want to check out!
Japan Travel Guide: Must-See Spots to Visit in Japan
If you want to travel Japan and not miss any of the best spots during your vacation, then here are some ideas to add to your itinerary that aren't Mt. Fuji.
1. Fushimi Inari Taisha
Located in Fushimi-ku, Kyoto, are the iconic orange Senbon Torii gates at the main shrine of the o-kami Inari. You'll find many foxes throughout the shrine since they're Inari's messengers in folklore.
Besides the beauty of the shrine itself, there are also popular hiking trails through the Senbon Torii. They take about 3 hrs to the summit of the mountain. You'll see amazing views of Kyoto on the way up Mt. Inari, and can even grab a bowl of Kitsune Udon (kitsune is "fox" in Japanese) at one of the restaurants up the mountain.
If your trip is limited to just the Tokyo area though, you can check out Nezu Shrine in the Bunkyo ward of the city. It also has the popular torii gates and a beautiful Azalea festival during the spring!
2. Visit Harajuku District in Tokyo
Well known for its bold, colorful fashion and kawaii culture, Harajuku has a lot of cool places to shop, eat, and explore.
Takeshita Street is the main place to go for that Harajuku vibe you may have seen in photos. It's a pedestrian street filled with shops, food, boutiques, cosplay, and more.
You can also:
Explore Yoyogi Park
Visit Meiji Shrine
Take pictures at the kaleidoscope entrance to Omotesando
Check out the new and updated Harajuku station, With Harajuku (That's what it's called – ウィズ原宿)
Pet a hedgehog at Harinezumi Cafe
Snag an amazing Japanese crepe (I highly recommend a matcha green tea, chocolate, and strawberry or a red bed and mochi flavor) at one of the many amazing crepe shops
Visit UNIQLO or go to one of the lolita and goth boutiques and snag some cool clothes
3. Tsukiji Outer Market and Tsukiji Honganji Temple
Also in Tokyo are the Tsukiji Outer Market and Tsukiji Honganji Temple. The temple is incredibly gorgeous and inspired by the architecture of Indian temples.
The Tsukiji Fish Market was the largest fish market in the world for a long time. But was moved to Toyosu, Koto (a ward in Tokyo still) and is now called the Toyosu Market.
Definitely still check out the new market. But the original Tsukiji Outer Market still remains and has some amazing food and shops.
4. Shibuya
Shibuya has long been one of the most popular districts in Tokyo, and you've probably seen lots of pictures of it. This is where the world's busiest crosswalk, Shibuya Crossing, is, as well as the statue of Hachiko at Shibuya Station.
You can:
Visit the Nintendo and Pokemon stores inside Shibuya PARCO
Check out the izakaya pubs and nightlife scene at Center Gai street
Check out the Shibuya Scramble Square for some great skyline views and shopping
5. Dotonbori in Osaka
The hottest spot to visit in Osaka! If you want to enjoy amazing food and drinks, this is the place to go. There are pub crawls, incredible restaurants, and lots of shopping too.
Besides that, this is where the rows and rows of electronic billboards are and it's super cool to visit at night.
6. Osaka Castle
Love Japanese history? Then you'll want to visit Osaka Castle while you're in the Kansai region.
This was Hideyoshi Toyotomi's castle, and he's the one who unified Japan. He was a samurai and daimyo lord during the Sengoku period and was basically Japan's de facto leader at the time.
Even if you don't love history, the castle's park is full of cherry blossoms and is a beautiful place to visit.
7. Kinosaki Onsen
In Toyouka, a city in the Hyogo prefecture on the opposite coast from Osaka, is Kinosaki. It's one of the most popular and famous hot springs in Japan.
If you want to visit onsen while in Japan (and you absolutely should), Kinosaki is a great place to visit. It's quaint, with beautiful architecture, gardens, and ryokan to stay at. If you want a traditional Japanese experience, this is it.
8. Hiroshima Peace Memorial Park
On August 6th, 1945, Hiroshima was the first place in the world to have an atomic bomb dropped, with devastating consequences. The Hiroshima Peace Memorial Park was created in memory of all the lives lost that day.
While a trip to Hiroshima does mean heading out to the Chugoku region on Honshu island, it's worth the trip if it fits your vacation schedule. Besides the Memorial Park, Hiroshima also has the incredible Shukkeien Garden, Hiroshima Castle, and the Itsukushima Shrine which stands on water.
9. Sapporo Snow Festival
Visiting during the winter? Sapporo, the capital city of Hokkaido, has a beautiful Snow Festival every year in February at Odori Park. They have ice sculptures, ice castles, and igloos, and it's a fun festival to visit with kids.
Besides that, while you're on the northern island of Hokkaido, you could:
Check out the Sapporo TV Tower, modeled after the Eiffel Tower
Get some of the freshest seafood and sushi in all of Japan
Hit the slopes in Rusutsu or Niseko
Bar crawl and party in Susukino, Sapporo's main nightlife hub
Go to the Sapporo Beer Factory and Museum and enjoy an all-you-can-drink session of the world-famous brew
Learn about the Ainu people of Japan and visit one of their indigenous villages and museums.
10. Kyoto International Manga Museum
Kyoto as a whole is a beautiful place to visit, where you can experience a lot of traditional Japanese culture. But if you love manga, then check out the Kyoto International Manga Museum.
Rather than a stuffy museum, this one has over hundreds of thousands of manga to read in Japanese and other languages. It's a great place to spend a chill day, and best of all, it's only 800 yen (about $6) to get in!
Besides that (and the Fushimi Inari listed above), you could also:
Explore the historic districts in Gion.
Visit the bamboo groves at Kodaiji Temple.
Eat a vegetarian meal, shojin ryori, at a Zen Buddhist temple.
Attend a traditional Japanese tea ceremony in Kanazawa.
Check out a traditional performance by geisha, or kabuki show, in Gion.
Essential Japanese Travel Phrases
Before you go, I highly recommend brushing up on some essential Japanese travel phrases. You don't have to be a pro at speaking Japanese, but learning a little goes a long way.
Many Japanese people appreciate your effort and respect for their culture. And it'll also help you get even more out of your experience. Plus, it's always nice to at least be able to greet someone, say thank you, please, or excuse me!
Here are the top 10 phrases I recommend learning. But if you want to dive deeper, check out this article I wrote with essential Japanese phrases for beginners.
ありがとうございます (arigatou gozaimasu): "Thank you (very much)". This is polite form. You can also shorten it to just arigatou.
おはよう (ohayou): "Good morning."
こんにちは (konnichiwa): "Hello"
はい (hai): "Yes"
ああ、ちょっと。。。(aa, chotto): Technically, this means "a little", but if you want to say no to something, it's the polite way to do it. The more direct way is to say いいえ (iie).
ごめんなさい (gomen nasai): "I'm sorry"
お願いします (onegaishimasu) or ください (kudasai): These both me "please".
英語を話せますか (eigo o hanasemasu ka): "Do you speak English?"
もう一度お願いします (mou ichido onegaishimasu): "Can you repeat that please?"
一つお願いします (hitotsu onegaishimau): "One (of those/that) please."
And one bonus one: 気を付けてね (ki wo tsukete ne), which means "be careful" but is also said like "safe travels."
Have a Great Time Traveling to Japan!
Wherever you decide to go, have fun! Japan is a beautiful and unique country with so many amazing places to see and things to do. Make the most of it!
If you want to prepare more for your trip, here are some other resources: