First week settling into Amsterdam
---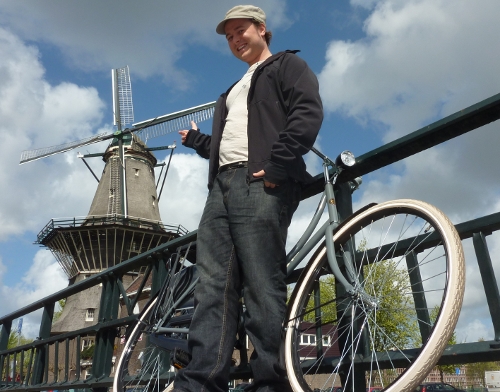 This detailed post describes how my first week in Amsterdam went.
As requested, I'll be giving regular updates on how I've been adjusting to a new culture and learning a new language. In future I'll send this update (which will likely be much shorter and include occasional videos) to the Language Hacking League, so sign up for that e-mail on the right of the site or at the end of this post to receive more! Next week I'll include a video tour of my flat in Dutch (with subtitles) just for people on that list!
Day 0 – Arriving exhausted
Calling this day 1 would imply that it was firstly an entire day in Amsterdam, and secondly that I was in some way lucid enough to experience sensations of time passing.
Neither of these are true.
I started flying on Monday (Day -1) at 11AM EST and got into Brussels at 7AM CET on Tuesday. For the first time in such trips I didn't get any sleep at all on the red-eye flight, not even a 5 minute wink. This combined with the general annoyances of travelling with all my worldly possessions meant that I arrived in Europe exhausted.
By the time I made it to Amsterdam (by train) a little after midday it had been over a day since I slept. The only thing in the world I wanted was a bed at that time, but being the "super organised" lad I am, I didn't even have a temporary place to sleep that first night!
Despite all of these problems, I'd end up having one of my most efficient first days in a country yet!
A blog reader met me at the train station to offer a hand in getting me started in the city, likely being quite disappointed that I wasn't the energetic friendly face from the blog. I looked like crap, needed a shower and felt like a non-Energizer bunny. I kept starting to say something and then forgot mid-sentence what the hell I was talking about, and this was in English!
It was great to have someone to steer me in the right direction – I seriously couldn't think straight. (Thanks Emma!)
Getting organised
I went online to book a hotel for that night, dumped my bags there and allowed myself a 20 minute nap. I do this all the time anyway, but in general it's one of the best ways to get over jetlag and exhaustion quicker. Simply going to sleep for 8 hours at 3pm would have messed up my entire first week. So I dragged myself out of bed (with every gadget I own making noise to make sure I got up) and soldiered on!
First thing was first: I needed a bike! I decided to simply buy one brand new in a shop I saw recommended online and I know I'll easily sell it for 3/4 of the price before I leave.
Next priority: SIM card! Unlike in the states, every other country in the world makes it very easy and cheap to get a prepaid SIM card with data. The Netherlands stayed true to this! Now I was mobile and had access to searchable Google Maps with GPS.
Finding my apartment on that first day
After a bite to eat I got back online and examined my options. The reason I was so badly organised is because someone told me they had a place for me that would have been perfect, and I had planned to go straight there on arrival. However, she changed her mind the day before I arrived! That was not a fun email to read!
So I hadn't been looking at all for several days – not ideal considering how incredibly hard everyone told me finding a place in Amsterdam would be. But as tired as I was, I still had a lot of experience finding a place to live quickly. One thing I do is to never put all my eggs in one basket.
I had been looking hard for the week before coming, using twitter and my email list to see if someone could help me out, answering a bunch of free ads online and writing in several forums. But nothing had come of that. So I decided to just fork over €25 to put my own ad up on kamernet.nl. I got a couple of replies, but nothing solid. I needed to put on my thinking cap! I had a sneaky idea of rewording my ad a particular way and then I got a load of replies!
One of those replies was the lady who had "secured" her place for me, but all the other interesting ones got a reply of – "I'll email you as I'm arriving to see if it's still free". This way they wouldn't wastefully hold it for me, but I hadn't burned any bridges. I'm very glad I did this because I got in touch with my second favourite place, emailed, got a reply and went and saw it that first night!
At 10pm I was so unbelievably tired; I really can't emphasise this enough! But I made it to this place, checked it out and confirmed that I wanted it. It's only a 10 minute cycle from central Amsterdam and a gorgeous apartment. I'll record a video this week, try to do it in Dutch, and share it in next week's update sent to the email list.
Day 1 – moving in
So, I was  very glad that I had refused to just go to sleep on arrival, since I had solved my most pressing issues all before my first night's sleep! I went back to the hotel, appropriately on Oudezijds Voorburgwal, the famous red light district! And I got a great night's sleep!
Day 1 wasn't so interesting, since all I did was move my things in, do some shopping, unpack, walk around the area. Rather than renting an apartment to myself, I actually have two Dutch flatmates! But I have only seen one so far, and I've only seen him twice all week. The flat is weird in that we have our own separate dining rooms and living rooms; you'll see in the video!
Day 2 – getting started on Dutch
Convincing the Dutch to listen to my first attempts at their language would have required enthusiasm and energy; neither of which I had on arrival. So two days into the country I still didn't even know a few basic words!
Normally, I do some decent studying on the flight over, but I was in a horrible stalemate on the whole flight of being too tired to focus and yet not tired enough to fall asleep.
So I got started on my study material after having moved into the flat. All I had so far was Rosetta Stone, which I will be using intensively for the purposes of writing a very detailed review to compare it to other language learning materials.
After a week I've gotten through all of level 1 (of 3) and the software still hasn't told me how to say "please"! (But I can tell you that's a red dress or a green sock; clearly more important…) So I quickly learned that this is not the kind of thing to use when you need to speak immediately, nor was it designed for that. Its possible benefits after going through the full program will be something I'll end up discussing.
Since I really can't rely on Rosetta Stone to help me quickly, I'll also be using the Teach Yourself book for the moment, since I've found that series good in other languages, as well as SRS on my phone.
However, after getting through the first part of Rosetta Stone I did find one major advantage, which will end up being the main reason I use the program: live video lessons from a human being! Without this I may have given up on using it entirely for the reasons I'll outline in the final review, but spending almost an hour with a native Dutch tutor is a worthwhile milestone to go through their strange lessons.
The best part is that the tutors stay true to the no-English policy of the program (which is a bit too simplified at times; you simply cannot represent every concept with images…), which meant that the first time I used it I was in a 50 minute session that was only in Dutch, and I was participating actively!
Like any good teacher she did not give in and switch over to the student's native language, so this got me into speaking the language in a way that may not have happened in an initial attempt at Dutch in the street. Someone getting paid to help you is of course going to have its advantages! I can only really do this twice a week though because the times of the lessons are dreadfully inconvenient (4AM anyone?) for anyone not living in the states, apart from two 11PM sessions…
The "conversation" was about what colour the dog is and how many trees there are – very classroom-esque and hardly an actual conversation, but at least it gave me that initial boost. I used it as an opportunity to go beyond the script and threw in a few other observations about the photos and managed to tell her that I've just moved to Amsterdam etc.
Day 3 – First impressions of Amsterdam
Now it was time to cycle around the city a little bit!
The weather was terrible the day I arrived (which certainly didn't help how I was already feeling quite grumpy!) but ever since then the sun has been splitting the stones (as we say in Ireland).
Cycling around Amsterdam is such a pleasant experience, especially when coming directly from car-obsessed USA. Bridges over canals everywhere, proper cycle lanes with special bike-specific traffic lights at many junctions, and priority for bikes in many places! It's great!
And most Dutch bikes are like mine; they have no handbrakes! It takes some getting used to, but you peddle backwards to brake.
The one thing that's quite hard to get used to is the amount of bikes! I've never seen so many at once – I'm not used to being among so many cyclists, so I've had some trouble getting used to the "bike rules of the road" and have had to overuse "sorry" (also said in Dutch) quite a lot as I nearly crash into people…
The city is gorgeous and I'm really glad I picked it! I'll try to spend as little time as possible at the apartment and even do my typing and online work while out. I want to absorb as much of this city as I can!
I have had some trouble adjusting to the prices though – I've been living in relatively cheap places like South America and Asia for quite a while (even last year in Europe in Berlin and Budapest were not that pricey), but Amsterdam is definitely an expensive city. Ideally I'd spend all day out, but I'll have to be home to cook most of the time if I don't want to run out of money again!
Everywhere I go refuses to give me tap water, which is so damn annoying. If I'm already paying €10 for a very basic meal, or entrance to a night club, that's apparently not enough! At least €2.50 needs to be added on top of that for a tiny bottle of water I could down in one gulp.
It seems pretty much all of the centre is like this. You don't need to be rich to travel and one way I have been able to stretch my money so far is by going out regularly but simply not consuming anything but water. Drinking "socially" is a waste of time in my opinion. It's unfortunate that I won't be able to do that here. I'll probably end up getting one orange juice and sip it all night as if it were €5000 wine.
Weekend – Getting social!
Since I've been far from Europe, it's been a while since I properly flexed my polyglot muscles, so I've been enjoying speaking a lot of Italian and Portuguese especially over the weekend! I went out to an Erasmus party first and was surprised to see how late it started. Nights out in Amsterdam seem to be similar timing to in Spain, with nobody going to nightclubs until 1AM at the earliest.
I tried my Dutch with some people there and they shot me down. I suppose I could conclude from this that all hope is lost, I should give up the mission entirely and it's true that the Dutch will never help me, but that's a crybaby approach of overreacting to a bad situation to use it in the first place.
Despite what some people think, I have no intention of walking up to strangers, tapping them on the shoulder and spouting Dutch at them. Nightclubs and similar events are probably the worst possible places to meet people (I go there to dance badly with friends I already have, not to make new ones).
I don't expect everyone to enthusiastically want to help me learn their language, but all I need to do is find a few people that do and hang out with them 🙂 I really don't see it as that complicated. I've been warned that in Amsterdam "nobody" will want to speak Dutch with me, but I've heard this defeatist tune sung many many times before in other places. I will meet people who don't want to help me, and that's quite fine! I meet them all the time everywhere else – I just filter them out and find people who will help me.
I hung out with my Brazilian friend Letícia the next afternoon. (We worked in the same company as translators and she translated the Language Hacking Guide to Portuguese). Then Saturday night I went to a Couchsurfing party. Going regularly to such events would lead me down the expat trap and I'd likely learn little to no Dutch, but I was curious to talk to foreigners living here to find out about their experiences to help mine, and of course to meet some locals!
Yesterday – all day just in Dutch
Now that I've properly settled in, I finally felt ready to throw myself fully into the language. Yesterday I went shopping and asked where food was, asked for directions in the centre, asked a kid on my street about his cat, ordered lunch and did all other little things, while spending all day outside, just in Dutch.
Since I was properly trying, the myth of people forcing English on me vanished. Not one single person did it. It's pretty clear from my hesitation, immense lack of vocabulary and accent that I'm not from here, but perhaps not having a strong English accent in general, and having an OK R means that they simply can't place me anywhere and it would be rude to presume I speak English (I could be Russian or Greek or German or French for all they know).
So for brief superficial use of the language like this I don't see it ever being an issue as long as I can find the right words to use.
On Sunday night I had a more natural conversation entirely in Dutch online. I added a local I met at the Couchsurfing party to Facebook and started chatting in there. Obviously in such an environment all the pressure is removed and I can use a dictionary and take my time to form full coherent sentences – for an entire hour we chatted away just in Dutch about many things.
So I am indeed using the language, but I haven't thrown myself into proper in-person conversations as quickly in the same way I did in my first week in Berlin. Simply convincing locals to help me will be an important part of my work here, but I already know what is required for that and now that I've eased myself in (for an entire week; way too long as it is!) and have the base vocabulary I need, I'll be meeting up with people for full conversations in person in Dutch this week.
Obviously, I'll still be quite basic in what I can say, but so far so good for my end-target of conversational fluency by the end of May 🙂
One thing I started was to tweet in Dutch at least once a day, so you can follow that at my new account @meertalig.
My German is definitely helping a bit, so reading and even writing isn't that huge of a challenge. But pronunciation is going to be a big part of my work. It's been difficult for me to get used to the guttural 'g' (which would be more like the 'g' in go when used in German), as well as quite different vowel sounds. How much German really helps will be more clear as I get deeper into the language. Although most of what I am reading about Dutch so far is actually different to German.
Another challenge will be to simply not morph my German into Dutch, so I was happy to invite a German friend to stay with me for a few days next week, when I'll be spending two whole days speaking just in German in the middle of the Dutch mission. I'll make sure to speak plenty of German while here as part of my strategy to not mix up similar languages.
You'll hear more about that and how I'll have continued my progress next week though 🙂 To follow the story then, join the email list!